SIZES AND DISTANCES
IN THE SUN-EARTH-MOON SYSTEM:
An Introductory Astronomy Lab
---
Rung 2: The distance to the Moon
In the following you will be using a real video images of a lunar eclipse which took place on September 16, 1996. You will derive the relative sizes of the Moon and Earth by using the time stamps in the image to determine how long it takes the Moon to pass through the Earth's shadow. The time you are concerned about is the time that the limb of the Moon just enters the umbra (the darkest part of Earth's shadow) to the time that it just shows up again as a bright crescent.
Record the time at which the Moon just starts to enter the umbra. The inset images that appear halfway through the movie are images of the Moon during totality, right after this we see the Moon reappear as a thin bright crescent, record the time at which this happens.
To view the movie again click on the RELOAD button (you may need to do this several times since the movie goes pretty fast).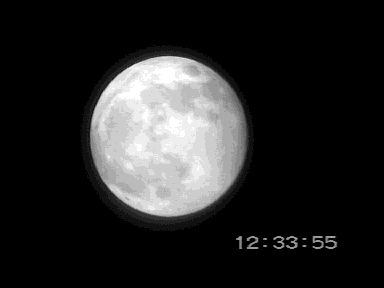 ---
---